The Fluxus Collection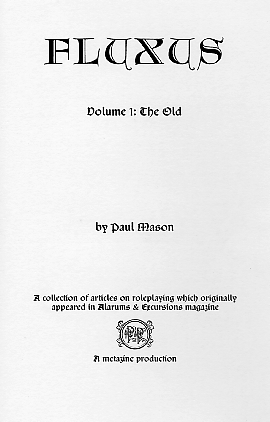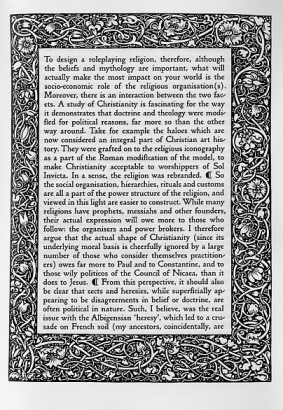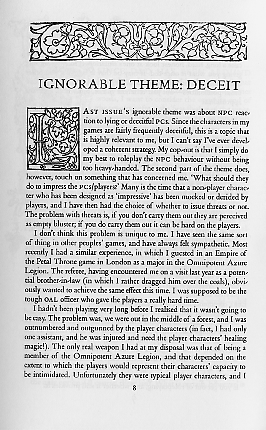 The first volume of the Fluxus Collection collects together a variety of articles, thoughts and comments from Paul Mason's Fluxus zine. Fluxus appears in the monthly APA zine Alarums and Excursions and continues the wit, erudition and insight of Paul's earlier (and more famous) Imazine but combines it with Paul's love of typography and graphic design.
For this edition the best articles and discussion from the original issues along with the most intriguing and beautiful layouts have been combined and reworked to create the most attractive and enlightening roleplaying zine you will read until the next Collection comes around.
Some themes and ideas will be familiar to readers of Imazine, such as the fourth part of the Masque of God series and the pieces on Outlaws of the Water Margin. Fluxus though is quite a different animal with a more relaxed, chatty and wide-ranging style. The division of the Collection into graphically distinct section also offers an excellent opportunity to just dive into an article at random.
The Collection gets the sub-title "The Old" from the fact that it uses layouts and styles from the Renaissance to William Morris. The writing remains as sharp and as modern as you like.
The Fluxus Collection is available as a 40 page A5 booklet.
Summary Contents
Here a few highlights from the collection although the vast range and variety of material prevents a definitive listing.
Clean Break - Giving up roleplaying games
No Limits - Encouraging creativity in character creation by restricting choice
Epiphany Now - The magical indefinable quality of roleplaying
The Facture of Fantasy - Finding the Other in Fantasy settings
The Masques of God - A reconsideration of the Masque of God articles
Assuming the Posture - Developing a religious mindset when roleplaying
Colophon Redux
This is a list of all the different page styles and layouts that are used in the first Collection.
Jenson (C. 14th)
Poliphilus (C. 14th)
Garamond (C. 15th)
Kis (C. 17th)
Caslon (C. 18th)
Fleischman (C. 18th)
Baskerville (C. 18th)
Bell (C. 18th)
Bondoni (C. 19th)
Leigh Hunt (C. 19th)
Gustav Doré (C. 19th)
Willam Morris - Golden (C. 19th)
Century (C. 19th)
Imprint (C. 20th)
Fournier (C. 20th)
Electra (C. 20th)
Spectrum (C. 20th)
Availability of the Fluxus Collection
My supply of copies of the Fluxus Collection has now run out and there are no plans currently to reprint it. If this changes I will post new purchasing details here.